Sermon on the Second Sunday after Christmas
January 2, 2022
Fr. William Martin
(Sermons for the First Sunday after Christmas and for Christmas Eve — follow after this sermon below)
There is a Collect that was appointed to be read on this Sunday in the Proposed 1928 Book of Common Prayer for the Church of England. The Prayer reads as follows:
To postmodern ears, the phrase Divine Nature sounds unusual. Most men don't use it since they don't give much thought to God's existence, let alone his nature! But we do well to meditate upon it this morning as we spend a Sunday between Christmas Tide and the beginning the of the Season of Epiphany. The Divine Nature, of course, is God's Nature, or His substance, nature, and essence, revealing who and what He is. In the Second Epistle of St. Peter, we read that the purpose of the Incarnation or the intention of God's Word or Son's being made flesh, was that Man might once again partake of the Divine Nature. God's original intention for Adam was that he might be moved and defined by the Father's Word and Will. Adam was one with the Word before the Fall. Now, in Christ, the Second or New Adam, Man can unite with God's Word once again. Man was made to share or participate in God's Life, from Heaven down to Earth and from Earth back to Heaven. In other words, the Word was made flesh and dwelt among us so that the intended pattern for Man with God might be recapitulated and reestablished as the way back to God.
Still, perhaps this term the Divine Nature strikes our ears as strangely obscure. In New Testament times, the term would have been much more familiar and better known. Even Hellenized Jews who had become acquainted with the writings of Plato and his followers, or even with the thoughts of Epictetus the slave turned Stoic philosopher, would have known something of this term. If you have read Plato, you know that he uses the term frequently. He teaches that human beings participate and share in the Divine Life and that the soul is endowed or gifted with a natural love for the true, the beautiful, and the good -which are the Divine Names describing the Divine Nature. Plato teaches that man has some access to the true, the beautiful, and the good through the highest element in his soul or his spiritual potential. But Plato taught also that man's soul or spirit is hindered and handicapped in partaking of the Divine Nature because it is weighted down and distracted by the passions and needs of the body. So, for Plato, the body is described as a kind-of prison house that prevents the soul from embracing the Divine Nature and the will of God. Thus, the good and higher element of human nature is always at variance with the evil or lower side. And, as a result, man can never be in full union with God. He can participate in the Divine Nature only haltingly and imperfectly. Man can come to know God. But to enjoy Him in any lasting and habitual way is beyond Plato's experimentation of the matter.
Now, this teaching of Plato is not really unlike much of what we find in our own world. There are people who maintain that they believe in some higher power or even think that something higher power that is the cause of all things. They might even believe that this nature enables them to live with some approximation to the Divine Nature. They believe that God exists, but the God behind it all is also rather distant and remote, removed from it all and not interested enough with man to to generate lasting union and communion. God, for them, is an inspiration for good or even moral living but not a God whose desire and love carry man into union with Himself perfectly and forever. God, they believe, is too radically unlike man to find enough in common so that He might even be interested in that kind of union that would reconcile the creature to the Creator. So, human pride or hubris exiles God and, as it turns out, seems to render the Divine Nature curiously impotent and imperfect!
But our theme for Christmas Tide runs clean contrary to such notions of the Divine Nature and the potential of man's participation in it. We Christians believe that the same God who has created the universe and who has made man in His Image, has also more wonderfully restored human nature so that man might not only partake of the Divine Nature but might also become a friend and companion of God once again. For Christians dare to proclaim boldly that the same God whose perfection creates the whole universe is able also to perfectly remake and redeem the same world and all men in it. The problem with the position held by many in our world, and even Plato, is that it limits God's power and banishes Him to a distant place that is useless and unreachable. It refuses to let God be God. It denies God his own power not only to make and create but to redeem and save. So, arrogant ignorance and unbelief banish God from human experience. They deny that God's own Son was made in the likeness of men so that we may be made partakers of the Divine Nature. They reject that God sent His Son into the world to restore our human nature so that by the indwelling of the Holy Ghost, you and I might once again become the sons of God.
But such a position is really a failure in faith. Faith doesn't claim to be able to produce or generate what God alone can do. Rather, it holds fast to the Divine Nature and believes always that God is able to do what man cannot. The Prophet Isaiah had such faith. In him we find a faithful vision of the Divine Nature and of God's intention to reconcile Himself with His people. The Spirit of the Lord is upon me; because the Lord hath anointed me to preach good tidings unto the meek; he hath sent me to bind up the broken-hearted, to proclaim liberty to the captives, and the opening of the prison to them that are bound….(Is. lxi. 1) Isaiah hopes for what we Christians believe. For, we believe that God has come to us in Jesus Christ to overcome our pride and arrogant ignorance and to speak to the meek and humble, to heal our broken hearts, to give us liberty from sin's captivity.
The real problem for all of us is that we need to learn how to become meek-hearted. The meek in heart know their own finitude and the limitations of human nature. They know also that God's love and power are always greater than man's weakness. They know that God can and does visit his wayward human creation with healing in the His Wings in the Person of His Son Jesus Christ our Lord. The meek in heart believe that without God man is held captive to sin and death, inhabiting a prison house of alienation from the Divine Nature. The meek in heart believe that the Word was made flesh and dwelt among us and has wonderfully restored our human nature.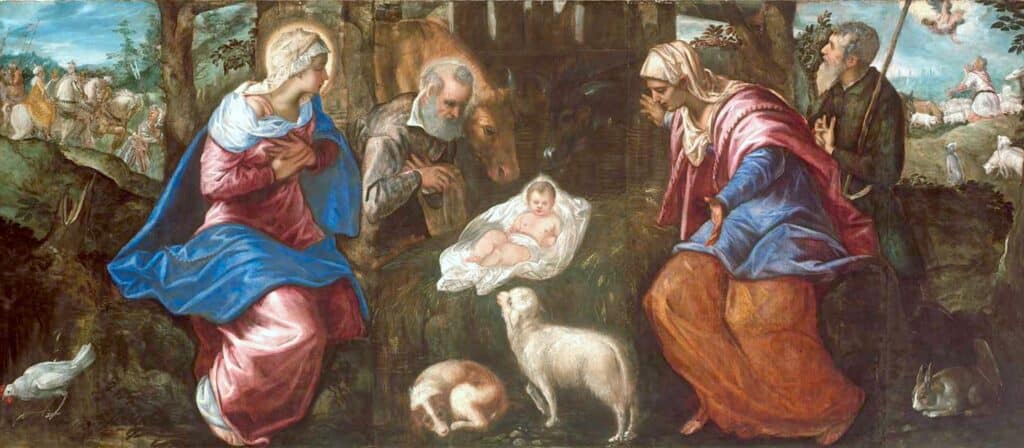 But let us notice one thing. We say that the Word was made flesh and that the Son of God was made in the likeness of Man so that we might be partakers of the Divine Nature. The Son of God, Jesus Christ, has taken on our human nature. He has recapitulated our human nature to God. This means that He has enabled us to cleave to God once again because, for us, He has vanquished the devil, as St. Irenaeus of Lyons has said. For it was necessary for the Mediator between God and men, by his relationship to both, to bring both of them into friendship and harmony — presenting man to God, whilst revealing God to man. (A.H. iii. 18.7) For in what other way could we have partaken in the adoption of sons, unless we had received from him [God the Father] fellowship with himself through the Son? Unless his Word, having been made flesh, had entered into fellowship with us? (Idem) Jesus Christ has redeemed our human nature. As men in Jesus Christ, we can once again have fellowship with God. Our value and worth with God the Father are reestablished through Jesus the Son and by the indwelling of the Holy Ghost. By taking on our human nature and submitting it wholly and perfectly to Himself as the Word and Son of the Father, Jesus Christ has reconstituted the human race and, as our Head in Heaven, forever desires to enable us to be partakers of the Divine Nature which He shares with the Father. This is Christ's desire. Our incorporation into His reconciliation of our human nature with the Father can come not by nature but by faith and free will, as we choose freely to become the Sons of the Father through Adoption and Grace.
To be sure, along with Plato and along with Herod in today's Gospel, we are inclined naturally to banish Jesus Christ into exile. Plato exiled God to Heaven because he could not imagine that Heaven might swallow up earth in the love of His Son. Herod banished the Holy Family into exile in Egypt because Christ the King of Glory is a threat to all earthly kings. We keep Jesus Christ, the Word of God, at a safe distance from our flesh because we fear how His indwelling Spirit might threaten our creature comforts and earthly happiness. We forfeit our Heavenly future because we are too consumed with earthly happiness and human comfort. So, today, let us thank God that the Divine Nature intends to share Himself with all of us. Let us thank God that He intends for us to be partakers of His own nature, because it is of the Divine Nature not only to be known but to be loved in the flesh. Let us partake of the Divine Nature through Jesus Christ our Lord, who was made in the likeness of men so that through Him we might recover our worth as the Sons of God by faith and good will.
Amen.
The First Sunday after Christmas
December 26, 2021
Fr. William Martin
Grant that we being regenerate, and made thy children
by adoptionand grace, may daily be renewed by thy Holy Spirit.
(Collect: Christmas I)
Christmas is all about being born again, born-from-above, being made new. Regenerate comes to us from the word regeneration, and that means remaking, remolding, or recreating. Christmas is all about being man's recreation, in the image and likeness of God. It begins with the birth of Jesus, and its ends with the re-birth of both you and me. So Christmas is not only about a singular birth that took place two-thousand years ago in Palestine. More importantly, it is about the birth that is about to take place in you and me, beginning here and now.
Christmas is all about the new life of Jesus Christ that will be offered to you and to me, as the starting point of a living experience that will lead us to the Kingdom of God. So our focus today must be with this new life. How can we welcome it? How can it grow in us? How can it be expressed through us to others?
First of all, there are a weeds to be cleared away if the seed of this new life is neither choked nor strangled from the outset. From the outset we are to banish all thoughts of resentment and bitterness, anger, fury, and rage, and then a desire for revenge or retribution. People who pursue such things forget too easily that we are the recipients of God's mercy. We neither deserve nor merit the manifold gifts of God's mercy ourselves, and it is our chief business to receive them always, as the only means to true salvation and deliverance. So let us banish any form of malevolence or ill will from our hearts this day. As the prophet tells us this morning, [our] warfare is accomplished, [our] iniquity is pardoned: for [we] hath received of the Lord's hand double for all [our] sins. (Isaiah xl. 2) One battle is finished, and so let us begin to fight the true warfare of the spirit, which the Lord wishes for us to wage in the battle of life that leads to his kingdom!
So how can we welcome Christ's new birth today? Prepare ye the way of the Lord, make straight in the desert a highway for our God. Every valley shall be exalted, and every mountain and hill shall be made low: and the crooked shall be made straight, and the rough places plain…(Isaiah xl. 3,4) We open our souls and make a clear space for Christ's birth today. The high mountains of our pride must be leveled. The low places of our humility shall be exalted and brought into prominence. The crooked and twisted ways of looking at the world shall be straightened, as we look up and into the heart of our loving Saviour. Christ longs to be born in us today. We must become humble and lowly in our own eyes. We must look straight on and into the coming light and brilliance of his love. His love desires to plant the seed of his Word in our hearts. His passion and desire long to make new life out of us. Are we ready for this? We ought to be.
How can we grow this love of God, this seed of his Word, this beam of his light in our lives today? We must not be ashamed as what God is doing with us even now. What he does, he does quietly and in secret. Joseph did not understand how his betrothed wife Mary was with child. They had not yet come together, for they were not yet married. Then Joseph, her husband, being a just man, and not willing to make her a publick example, was minded to put her away priviliy. But while he thought on these things, behold, the angel of the Lord appeared unto her in a dream, saying, Joseph thou son of David, fear not to take unto thee Mary thy wife, for that which is conceived of her is of the Holy Ghost: And she shall bring forth a Son, and thou shalt call his name Jesus; for he shall save his people from their sins…(St. Matthew i. 19-21) What God is doing with us, he does inwardly and spiritually. He has even taken us away from the world, even from churches, to begin to allow his Word of salvation to grow in our hearts beginning here and now. Maybe it doesn't seem quite right. What will the world think of this our new way of moving forward into the new birth of Christ in our souls? Who cares what the world thinks? Let us care about what God is beginning to do in and through us here and now. We are removed from the world in this house. We are, as it were, meeting in secret. We meet in the secret recesses ofGod's presence. Here in the womb of this new Body, Christ is being born in us. He will grow in us. We will grow in him. We start in a quiet and still place. We start in a way that is removed from the world and even the churches. But start we do, here and now, and God is at work amongst us.
Today let us remain faithful. The Word of God has been made flesh in our souls. The Word of God has brought his Spirit alive in our hearts. What is being born in us is love for the Father. What is being born in us is the wisdom of the Son. What is being born in us is the divine energy of the Holy Spirit. We are one in the operation of God's love for us. We are one in faith. We are one in hope. We are one in common pursuit of a common destiny, which is friendship with God. We are one in our common quest, our odyssey, and our pilgrimage. We share the truth, the love, and the energy by mutually exchanging it with one another. In our end, the end of all our wonder and quest, journey and pilgrimage, we come to our beginning, and perhaps begin to know it for the very first time. Today the Word, Christ, made flesh long ago, comes to us, to be near, and yet more than near, to be at one with us and for us. Christ is Emmanuel. Emmanuel means God with us and for us. It means one thing more: God in us. God comes to live in us through his Word, Jesus Christ.
Let us end with the words of Arthur Edward Waite:
With a measure of light and a measure of shade,
The world of old by the Word was made;
By the shade and light was the Word concealed,
And the Word in flesh to the world revealed
Is by outward sense and its forms obscured;
The spirit within is the long lost Word,
Besought by the world of the soul in pain
Through a world of words which are void and vain.
O never while shadow and light are blended
Shall the world's Word-Quest or its woes be ended,
And never the world of its wounds made whole
Till the Word made flesh be the Word made soul!
Sermon for Christmas Eve
December 24, 2021
That day is called the birthday of the Lord on which the Wisdom of God manifested Himself as a speechless Child and the Word of God wordlessly uttered the sound of a human voice. His divinity, although hidden, was revealed by heavenly witness to the Magi and was announced to the shepherds by angelic voices. With yearly ceremony, therefore, we celebrate this day which saw the fulfillment of the prophecy…(St. Augustine sermon clxxxv)
Tonight, we come to the cradle, the cratch, the manger, and the cave in Bethlehem to worship God's own Word made flesh beginning with a meditation upon the Incarnation by St. Augustine of Hippo. From the human side of this reality, we can hear only silence. First, there is the silent wonder born out of speechless humility, and then deeper contemplation that urges us onward to the wondrous fixation that we shall find in this child's earthly Mother. Second, there is the wonder and awe borne out of the integrity, decency, and honor of the one who shall become the child's Foster-Father. Third, there is the silence of the child himself. From the child, the only sounds that emerge are the inarticulate cries of a new-born babe. The sound of this infant's voice must be heard. But first it is not to be understood. God never forces His Word and Will upon anyone. The gift of God in Jesus Christ must make its way into the unruly, antagonistic, unfriendly, and hostile world of good and evil. The gift of God's redemption for us that will be found in this child will not be received truly and sincerely until it is heard by the ears of the human heart. The child's message cannot be heard until we cherish the Word that will be heard. So first, in faith, we must welcome the Omnipotent Father of the Universe in His Son who comes to us in an unthinkable, unusual, unpredictable, and unlikely way.
Jesus Christ is God's eternally begotten Wisdom and Truth. St. Augustine tells us that,
Truth is sprung out of the earth: and righteousness hath looked
down from heaven. Truth, eternally existing in the bosom of the
Father, has sprung from the earth so that He might exist also in
the bosom of a mother. Truth, holding the world in place, has
sprung from the earth so that He might be carried in the hands
of a woman. Truth, incorruptibly nourishing the happiness of
the angels, has sprung from the earth in order to be fed by human
milk. Truth, whom the heavens cannot contain, has sprung from
the earth so that He might be placed in a manger. (Idem)
For the truth of God's Word to be made flesh it must spoken again into human life from conception to death. For men to know, once again, the Truth that rules and governs the universe, it must be welcomed in man's beginning. It must be cherished, treasured, loved, and cared for in the joy of new life. It must be traced along the lines of life that move from infancy into childhood, from childhood into adolescence, and from there into adulthood. It longs to be seen and loved in earliest moments of conception when a mother who cares for herself because she lives for her baby joyously anticipates the extreme joy of new life that birth brings. Tonight, it yearns to be seen and loved in childbirth and nursing. It will insist that it can and must be found in poverty and need, over and against the presence of all earthly comforts. But its presence can be found truly and its love felt keenly only with the bare minimum of earthly distractions and worldly temptations. And they came with haste, and found Mary, and Joseph, and the babe lying in a manger. (St. John i. 14)
Jesus Christ is God's Word, Wisdom, and Truth made flesh. God did not send His Son into the world with a blast of paranormal miraculous otherworldliness. He is God. He needs nothing. He speaks through every created being. He sends His Son because He wants, desires, and yearns for us to find Him in what is closest to us, in earthly birth and new life. God wants to share His own great goodness with us in the natures that we call our own. Silently and quietly, we must go to the Manger. With all humility and meekness, we must contemplate the manner in which our God comes to us. Selflessly and generously, we must bring our hearts and souls to Him in order to see this thing which is come to pass, which the Lord hath made known unto us. (St. Luke ii. 15) St. Augustine stirs us up to God's awakening of the world in those infant eyes that look out on the cosmos that He has made but will behold for the first time in human flesh, our flesh, and for our salvation. Be still. We must hear the message of the angels:
Arouse yourself, O man; for you God has become man.
Awake thou that sleepest, and rise up from the dead, and Christ
Shall give thee light! For you…God
has become man. If He had not thus been born in time,
you would have been dead for all eternity. Never would
you have been freed from sinful flesh, if He had not taken
upon Himself the likeness of sinful flesh. Everlasting misery
would have engulfed you, if He had not taken this merciful
form. You would not have been restored to life, had He not
submitted to your death; you would have fallen, had He not
succored you; you would have perished, had He not come. (Idem)
Imagine if Christ had not been conceived by the Holy Ghost in the womb of the Blessed Virgin. Think about where we would be if Jesus Christ had not been born in time, wrapped in swaddling clothes, and lying in a manger, only to be welcomed by His own people with doubt, suspicion, rejection, and hatred. Imagine if He had not suffered and died for us. Think about how we would still be living under the curse of the Law and faced with the certainty of an eternal death. Think about how Heaven would be still the distant dream of prophets who wait and philosophers who wonder. Think about how the Law of Sin and Death would have remained securely in place. Think about how human freedom would never have seen the light of day in the One whose light alone frees and liberates us all from darkness.
On Christmas Night, Christ is born in Bethlehem of Judaea. On Christmas Night, Christ enters time and space for just long enough to call us into another kind of death, His Death on Calvary, for just long enough to call us back into the short span of another kind of life -Resurrected life that leads back to God the Father, for just long enough to offer to us pattern for our own short stay in this vale of tears.
Let us joyfully celebrate the coming of our salvation and
redemption. Let us celebrate the festal day on which the great
and timeless One came from the great and timeless day to this
brief span of our day. He has become for us … righteousness, and
sanctification, and redemption… (Ps. lxxxv 11) (Idem)
Will truth spring out of our earth, the earth of our fleshly selves, for us tonight as righteousness comes down from Heaven once again? Will this Word be made flesh in us tonight? Will we be born again, from above and in our flesh? Or are we people of the Law of Sin and Death? Will we keep God on the outside of ourselves, at a safe distance, not too dangerously close so that He might bring us into a death that must precede tonight's New Birth? If He does come into us, He expects to be born again. And if He is to be born, He must be born as that Wisdom and Power that forever enter the world as Love. He cannot be born in us if we behold His truth but do not embrace it. He cannot be born in us if we have time for the lofty notions of the Christian Ideal but never intend to please God with all of our lives. (W. Law)
As we prayerfully contemplate the meaning of this night, many Christians will depart this life never having shown that world that Christ was born in Bethlehem. Will we be determined to show the world that Christ was born for us that we might be born again in Him? Will we show that,
Truth is sprung out of the earth because Christ who said: 'I am the truth' was born of a virgin; and righteousness hath looked down from heaven because, by believing in Him who was so born, man has been justified not by his own efforts but by God. 'Truth is sprung out of the earth' because 'the Word was made flesh'/ and 'righteousness hath looked down from heaven' because 'every good and perfect gift is from above.' (Idem)
We can give out the gift only if our faith in Jesus Christ is alive and well and growing. We can show that God's Word [has been] made flesh only if and when His Grace is so alive in our hearts that we cannot help but share Him with all others. The Babe of Bethlehem longs to be born in us tonight. The Word of God longs to be made flesh in us so that we go tell it on the Mountain that Jesus Christ is born, so that we not only go tell it on the mountain that Jesus Chrsit is born, but that He is alive and well and working to bring us and all men to salvation! Will we let Jesus Christ so run His course in our lives that His birth is the beginning of our reconciliation with God our Heavenly Father?
Let us sing out tonight, Come into my heart and soul Lord Jesus! He has come so that we might be liberated and defined solely by His indwelling Spirit. He is God's Word and can be made flesh only if our hearts and souls are enlarged to receive Him. Will our hearts be enlarged while time remains? Let us close with the words of the poet.
Aren't we enlarged
by the scale of what we're able
to desire? Everything,
the choir insists,
might flame;
inside these wrappings
burns another, brighter life,
quickened, now,
by song: hear how
it cascades, in overlapping,
lapidary waves of praise? Still time.
Still time to change.
(Mark Doty)
Still time to change, still time to be born again, born from above, dying to live by the Saviour's love, dying to speak with the truth from above, still dying to die so that we might live, still dying to live so that we might give, still dying to give for one more day, still dying to give our Lord Jesus away.
Amen.
©wjsmartin